Ray Jacobsen Memorial Scholarship fund Transferred to ArtEscape
Although we were not able to reach our goal of 10k to create a perpetual scholarship, we are pleased to announce that the Ray Jacobsen Scholarship Fund of $2,000 has been transferred to ARTescape, the community outreach program of the Arts Guild of Sonoma. The funds will be used as a scholarship fund for art classes, workshops and Summer Art Camps for teens from the Sonoma Valley.
Thank you to all who contributed!
We feel that the funds will be in good hands with Artescape and still serve our local teens as promised. Review the report from Artescape to see how the funds were used.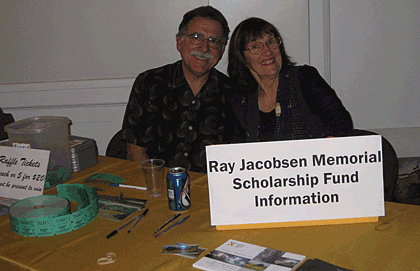 Ed Dufault and Audrey Von Hawley selling raffle tickets at the Arts Guild Tribute